1. Technology that works for you
Usha Room Heaters come with revolutionary Positive Temperature Coefficient (PTC) Technology which gives them an unbeatable combination of safety and effectiveness, coupled with low operating cost. Initially, the PTC element in these room heaters allows more current to flow, which enables faster heating. So you can warm up a cold room faster and be comfortable in much less time. Once the room heater reaches an optimal temperature, PTC elements have the capability to control the flow of current and hence retain heat for longer.
Advantages of PTC Technology:
In case of Thermostat failure the product will remain safe due to the self-limiting character of PTC. Thus making the product safer than a conventional heater
Power saving is 10% more than any other conventional room heater as the power consumption reduces on achieving an optimal set temperature
Maximum heating temperature is 90˚ Celsius which is far below the burning or melting point of used plastic parts, which prevents accidents and ensures your safety as well as that of the plastic parts
The heating element in these heaters self-limits the draw of current thus enabling sustained release of heat for a longer period of time.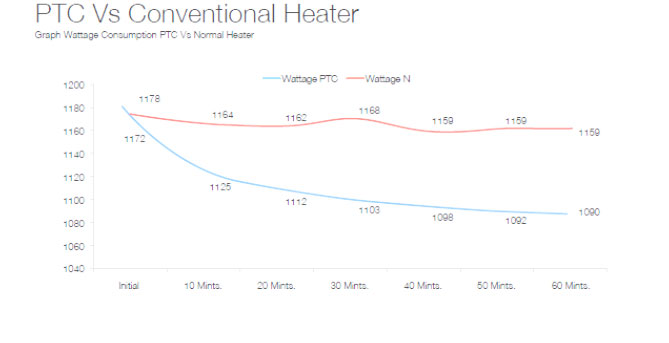 2. Best in Class Safety
Usha heaters are made keeping your comfort in mind. They are not only feature loaded to keep you warm throughout the winter months but also come equipped with a multitude of safety technologies to ensure that they never be a cause for worry for you.
A) Tip Over Protection: A spring loaded switch is installed at the underside of the heater. Whenever the heater tips over (falls down), the switch is released and consequently the power supply is shut off.

B) Safety Overheating Protection: Our heaters come installed with inbuilt thermostat which regulates the power whenever the heating element reaches threshold heat temperatures.

C) Thermal Cutoff: If in the situation when the heat from the element exceeds predefined thresholds, the heater comes installed with a thermal fuse which cuts of power supply completely, preventing the unit from catching on fire.

D) Triple Safety Protection: Few of our fan heaters come installed with Triple Safety Protection. This safety feature enables the heater to not malfunction and cause problems even if all sources of air entry and exit, like the inlet, outlet and motor are blocked due to some reason.

E) ISI Mark: All of our Usha Heaters come with an ISI mark to give an assurance of their safety, quality and dependability.
3. Low Noise Operation
Our heaters are designed to provide the best heating and experience no matter when they are used. For this we strive to ensure that the heat delivery systems inside our heaters are top notch. The fans that are inbuilt into the heaters go through various rounds of testing before they are given an approval to be installed inside the heaters. What we have achieved from this effort is that now our entire OFR with fan range and the ceramic heater range come equipped with fans that make as little noise as possible. The aim behind this practice is to make your experience comfortable and satisfactory even at night and ensure that peaceful night's sleep.
4. Lightweight and Modern Design
Sleek and Stylish, Usha Room Heaters while being eye-catching, also effortlessly blend into the aesthetics of your house with their warm and subtle colors. The heaters are designed to ease portability with lightweight bodies, carry handles and wheels wherever necessary to make them easy to carry around from room to room in those cold winter months. Their compact design also enables easy storage when the season passes.